Dental Care and Disease Prevention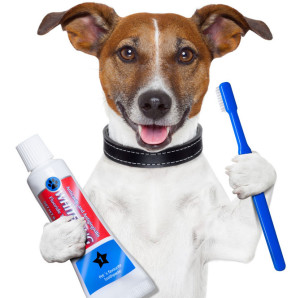 Proper dental care for your pet can help prevent dental disease which is a silent process that may cause many other illnesses, including kidney, heart, and blood infections. When pet's don't receive the dental care they need to keep their teeth clean and their gums healthy, their mouths can harbor bad bacteria. Ask your veterinarian or technician for more information.
Animal Health Veterinary Clinic is here to educate you on proper dental care for your pet. We carry several products to help you maintain your pet's dental health at home.
---
Brushing your pet's teeth every day is the best way to prevent plaque buildup. It is best to start teaching your pet to let you handle their mouth early or as soon as possible. If you brush your pet's teeth everyday, your pet will become familiar with the routine. Be patient!! Make this experience enjoyable using love and praise!! Try to brush their teeth at the same time every day to establish a routine. Use pet friendly toothpaste, NOT human toothpaste.
Dental wipes are cloth pads designed to help control plaque when rubbed against the tooth and gingival daily. Your pet may tolerate the use of wipes better than a toothbrush. Use the same circular motions on the outside of the teeth as you would with a toothbrush.
Biotene Veterinarian "Brushless Oral Care" products are the World's #1 Brushless Oral Care System for your pet. They contain multiple enzymes that inhibit bacteria and remove plaque the natural way.
Their products are simple, effective, non-toxic, and convenient, making them the easiest way to care for your pet's oral health in today's busy world!! Biotene Veterinarian products do NOT contain Xylitol, alcohol, chlorhexidene, or chlorine compounds.
Ask your veterinarian or technician to go over Biotene Veterinarian's 4 easy to use products : Drinking Water Additive, Therapeutic Mouthwash, Maintenance Oral Gel and Antiseptic Oral Gel.
Dental diets, such as Science Diet T/D, is a dry nugget that does not crumble when your pet bites into it. The nugget works like a toothbrush to clean teeth and freshen breath as the pet chews. It gently scrubs away plaque and tartar to clean teeth and promote healthy gums.
We do not recommend using bones, hard nylon, cow hooves, or pig ears as they can break your pet's teeth.